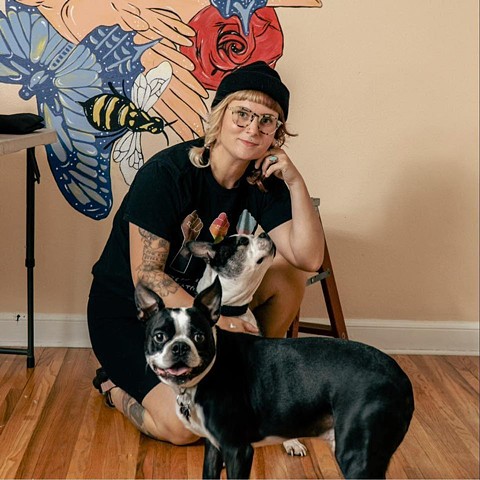 Dana Sikkila, Arts Administrator, Educator, Visual Artist, and Public Speaker
Dana Sikkila a Minnesota-based interdisciplinary maker and creator. At just 37 years old, Sikkila has been named one of the most well-known creative leaders of Southern Minnesota. Sikkila is known for her social practice and activism programs, creative consulting, public speaking, and her theory development within creative curriculum.
Her practices span from working in communities from rural to the Twin Cities, with an emphasis of working with marginalized audiences. Sikkila has established a strong background as a trauma informed artist and leader, working and developing art therapy-based programs for populations from incarcerated artists to youth experiencing homelessness. Her self-defining administration style has bridged the gap between arts creation and administration. Developing numerous grassroots cultural projects and exhibitions throughout the state.
First known as a visual artist, Sikkila's practice combines printmaking, sculpture, and site specific installations with an impressive sense of scale and playfulness that push new ideas of contemporary art. Her work has been viewed and discussed all over the state in places such as the Minnesota Museum of American Art, Macy's Department Store, Hennipen Theatre Trust, University of Minnesota St. Paul, Minnesota Children's Museum, and the Minneapolis Institute of Art
Over the past 12 years of being Executive Director of the 410 Project Community Art Space Sikkila has introduced numerous art programs and special events for both children and adults to help strike creativity, positive self esteem, and art awareness in all of Southern Minnesota.
Besides these duties Sikkila has received numerous awards including 2017 Women's Center and President's Commission on the Status of Women's " Women's Courage and Vision Award", Mankato Free Press 2016 "Outstanding Woman in Business", 2015-2016 Art Educators of Minnesota "Distinguished Service Outside the Field" Recognition, 2015 Mankato's YWCA Young Woman of Distinction, and featured artist on PBS's Off 90 in 2017, and Post Cards, Pioneer's PBS Art TV Program in 2016.